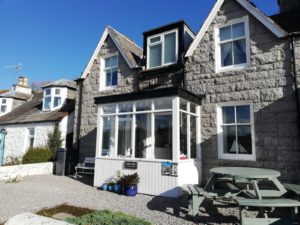 From someone who has had a holiday cottage in Kippford for the past 10 years you may be surprised to hear I don't think I would ever want to live there full time. Don't get me wrong, I love Allonby Cottage and Kippford but I know that if we lived there full time I wouldn't have the same special magic feeling I get when I know we are going there for a holiday.
It is my 'retreat place', somewhere we escape real life and all that brings with it; a place to unwind, to relax, to make fabulous memories with family and friends and just live a simpler way of life. It's why I have stubbornly refused to install Wi-Fi, it means my husband can't "just do half an hour of work" and the children can't constantly check their social media. We read, we play games, we watch movies together but mostly we go outside and have adventures. A friend who came to stay with us in Allonby Cottage for a week once wrote to me afterwards and said "staying at Allonby Cottage and being in Kippford was like stepping back in time, like being in an Enid Blyton book. Who needs anything more than a week of picnicking, crabbing from the pier, swimming in the sea, building dens in the forest, castles on the beach and making memories that will last a lifetime?" She basically summed up exactly how I feel about being there.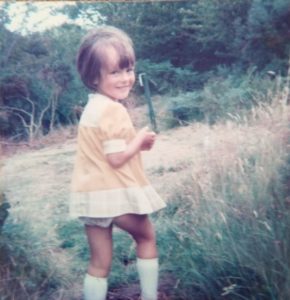 I first went came to Kippford aged 4 years old. My Mum and Dad had bought a touring caravan and it was a toss-up between Wales and Dumfries and Galloway as to where they went. The latter won and after looking at a few sites they settled upon Kippford Caravan Park. That was it we pretty much holidayed there every year from 1974 on wards. We left the caravan there all year round so would pop up for weekends as well as most school holidays. I can still remember driving past the Welcome to Scotland sign and feeling the sheer excitement of what that meant and by the time we reached Dalbeattie we were beyond giddy. Forty four years later I still feel all these emotions as we drive up to Kippford!
Ever since then Kippford has always meant family and friends. It became the place that brings us all together from wherever we are in the world, the place where we have fun, where we laugh, where we are happy.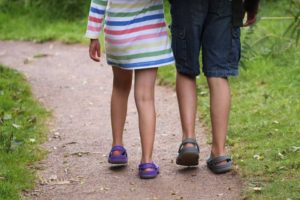 After I married and left home, my husband and I still holidayed in Kippford. In fact my Mum always says she knew he was "the one" as he was the first boyfriend I ever took there. Being army we travelled all over the world so Kippford became even more important to us, a constant in our transient lives. Taking our son and then consequently our daughter there were such special moments, a new generation of Kippford lovers.
When my parents decided to sell the static caravan we had progressed to, it broke not only their hearts but all the family's too. It didn't take us long to realise we didn't want to let go of Kippford. It does that to you, works its wonders and gets under your skin, into your soul. So ten years ago we found, viewed and bought Allonby Cottage. The minute I walked into the bedroom upstairs and looked out at that view I was sold. Call me an old romantic but we still have the postcard I sent my Grandma from the first time I took my now husband up there and it has Allonby Cottage on it. It was meant to be!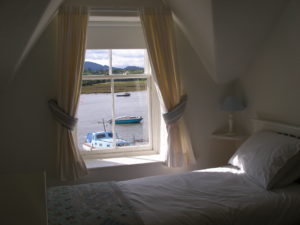 The rest as they say is history, as a family we all worked together to create a cottage we can enjoy and hope our guests do too. We love Allonby, Kippford and Dumfries and Galloway. I sincerely hope our guests feel the same and they go home with that warm glow of happiness and contentment. It will forever be our special magical place, the place we retreat to, the place we reconnect with one another and what's important in life, the place we have adventures and the place we continue to make memories to last a lifetime!!